MLS 604: the Origins of modernity
Niccolo Machiavelli Quotes
Machiavelli states that "Nor can there be any good grounds for calling a republic disorderly when it contains so many examples of individual excellence [virtu], for good individuals cannot exist without good education, and good education cannot exist without good laws..." (pg. 60). In 2017 we elected a new president. Did education play a role in electing our President Trump?
http://fivethirtyeight.com/features/education-not-income-predicted-who-would-vote-for-trump/
Powered by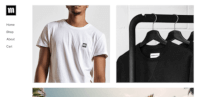 Create your own unique website with customizable templates.